The Alaska Court System frequently will sentence an offender to serve a certain amount of time in jail. They will do this when the offender is in court and will instruct them to report to the Yukon Kuskokwim Correctional Center on a particular date. When this happens the offender must go to the Court Clerks office and get a copy of the signed judgment. This document must be signed by the sentencing judge. This is a different document from the Reporting Instructions document and is not accepted by the Department of Corrections as legal authority to hold.
Reporting Instructions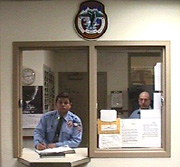 On the date that the offender is to report to jail, he or she must report before 11:00 PM and must not be under the influence of alcohol or drugs. Additionally the offender is to report to jail with only the clothes being worn and money that will be placed in the offender's account. No other items are allowed and the offender may be turned away if other items are brought.
Upon arriving to the Yukon Kuskokwim Correctional Center, the offender must then present his/her copy of the Court Judgment (the one signed by the judge that also has the case number and sentence on the form) to Booking Officer. The Officer will then begin the process of booking the offender.