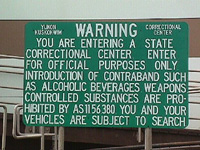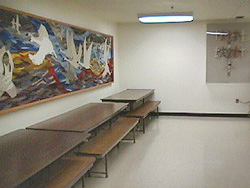 Secure Visiting Schedule
Secure Visiting is available to all prisoners (unless restricted for segregation reasons) Secure visits are conducted where your visiting is separated by a glass partition.
Secure Visiting Hours - General Population (Monday, Wednesday, Friday)

FEMALES: 8:00 AM - 9:00 AM & 6:30 PM - 7:30 PM
MALES: 9:00 AM - 11:00 AM & 7:30 PM - 9:00 PM

Secure Visiting Hours - General Population (Saturday & Holidays)

FEMALES: 8:00 AM - 11:00 AM
MALES: 1:00 PM - 4:00 PM

Secure Visiting Hours - Segregation

FEMALES: 1:00 PM - 2:30 PM
MALES: 2:30 PM - 4:00 PM
Contact Visiting
Contact visitation is only authorized for the Office of Children Services and other professional visitors.
Visitors shall leave purses and outer garments, i.e., coats, parkas, etc., in their vehicles or in the lockers provided.
Weapons of any sort are not permitted to enter the facility.
All visitors shall present accurate picture identification.
All married or emancipated minors must furnish appropriate documentation i.e., marriage license, court order, etc.
Visitors must be dressed appropriately (see dress code below).
Visitors shall be responsible for the conduct of their children at all times while on the premises.
Provocative body contact or visual connotations is not permitted.
Visitors who leave the visiting area during visiting shall be viewed as terminating their visits and shall not be allowed to return.
Visitors and dependents will not be allowed to take any items into the visiting room.
Visitors and inmates are not authorized to exchange anything, Officers will not accept anything from or for any inmate.
Visitors that are immediate family members may place money on the inmates' account via cash, or money orders.
Violations of any visitation rule may terminate the visit immediately and may be grounds to permanently terminate your visitation within this facility.
Search of Person, Property, and Visitation Area: Staff may search a visitor and his or her belongings for weapons and contraband. Visitors who refuse to submit to a search will not be allowed to visit. Staff may pat search or use a metal detector on visitors before and after visitation. A staff member of the same sex must perform the pat search.
Contraband: The Department may terminate visitation and refer for prosecution any visitor who introduces or attempts to introduce contraband during visitation. Contraband includes anything that the visitor or prisoner exchanges without the Superintendent's approval.
Rules of Conduct: Visitors must keep their children under control. The Department may terminate a visit if children are unruly or disruptive. The shift supervisor has the discretion to terminate a visit for any disturbance
Hats and jackets are prohibited
Shirts must have sleeves, shoulders and midriffs must be covered
Clothing may not have obscene or provocative slogans, logos, or other objectionable writing
Shirts with buttons/clasps must be buttoned or fastened with the exception of the top (neck) button or clasp
Pants and or shirts must extend below the knee
Cell phones are prohibited
Any clothing item which is transparent, translucent, low cut, revealing, provocative, or immodest is prohibited
Nothing may be carried into the visiting rooms.
Lockers may be available to secure belongings (dependent upon current use)
Adults, 18 years of age or older
Prisoner's children under the age of 18 if accompanied by an adult family member (verifiable)
Minors under the age of 18 if escorted by an adult parent or legal guardian (verifiable)
A minor who is married to the prisoner he/she is visiting (verifiable)
Minors emancipated to adult status
Probationer with written permission from the supervising Probation Officer and the Superintendent.
Any visitor who does not follow visiting rules, or has been found in violation of posted guidelines
Individuals (except an immediate family member) who has been released from any correctional center or jail within the past 60 days
Persons on felony probation or parole without the permission of both the Superintendent and the supervising Probation Officer
Security Requirements
Disruptive conduct by visitor or their dependents
Being under the influence of alcohol or drugs
Health problems
Refusal to submit to searches of their belongings and or themselves
Failure to produce picture identification
Violating, or previous violations of visiting rules
Misrepresentation of identity or purpose of visit